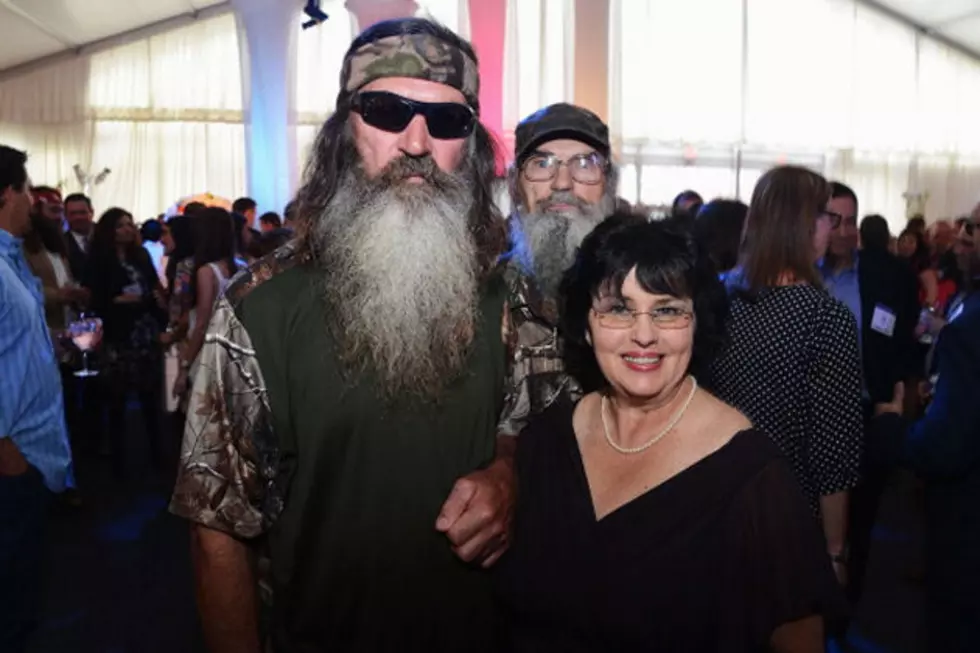 'Duck Dynasty's' Phil Robertson Suspended for Comments About 'Homosexual Behavior' and 'Blacks'
Jason Kempin/Staff, Getty Images
During his recent GQ Interview, here's what the Duck Commander had to say about "homosexual behavior"
"Start with homosexual behavior and just morph out from there. Bestiality, sleeping around with this woman and that woman and that woman and those men," he tells reporter Drew Magary. "Don't be deceived. Neither the adulterers, the idolaters, the male prostitutes, the homosexual offenders, the greedy, the drunkards, the slanderers, the swindlers—they won't inherit the kingdom of God. Don't deceive yourself. It's not right."
"I never, with my eyes, saw the mistreatment of any black person. Not once. Where we lived was all farmers. The blacks worked for the farmers. I hoed cotton with them. I'm with the blacks, because we're white trash. We're going across the field.... They're singing and happy. I never heard one of them, one black person, say, 'I tell you what: These doggone white people'—not a word!... Pre-entitlement, pre-welfare, you say: Were they happy? They were godly; they were happy; no one was singing the blues."
We are extremely disappointed to have read Phil Robertson's comments in GQ, which are based on his own personal beliefs and are not reflected in the series Duck Dynasty. His personal views in no way reflect those of A+E Networks, who have always been strong supporters and champions of the LGBT community. The network has placed Phil under hiatus from filming indefinitely.
And here is Robertson's non-apology:
I myself am a product of the '60s; I centered my life around sex, drugs and rock and roll until I hit rock bottom and accepted Jesus as my Savior. My mission today is to go forth and tell people about why I follow Christ and also what the Bible teaches, and part of that teaching is that women and men are meant to be together. However, I would never treat anyone with disrespect just because they are different from me. We are all created by the Almighty and like Him, I love all of humanity. We would all be better off if we loved God and loved each other.
Everyone has an opinion and while I don't agree with the Duck Commander, I do believe in freedom of speech.  Also, I am not surprised by his comments and views.  He grew up in a different time than I and his views will not change mine.  Our society is changing and it will continue to change.
I will not stop watching Duck Dynasty.  What about you?
Will you stop watching "Duck Dynasty"  because of Phil Robertson's comments?
Here's a sneak peak of what to expect during the 2014 season, possibly without the Duck Commander: