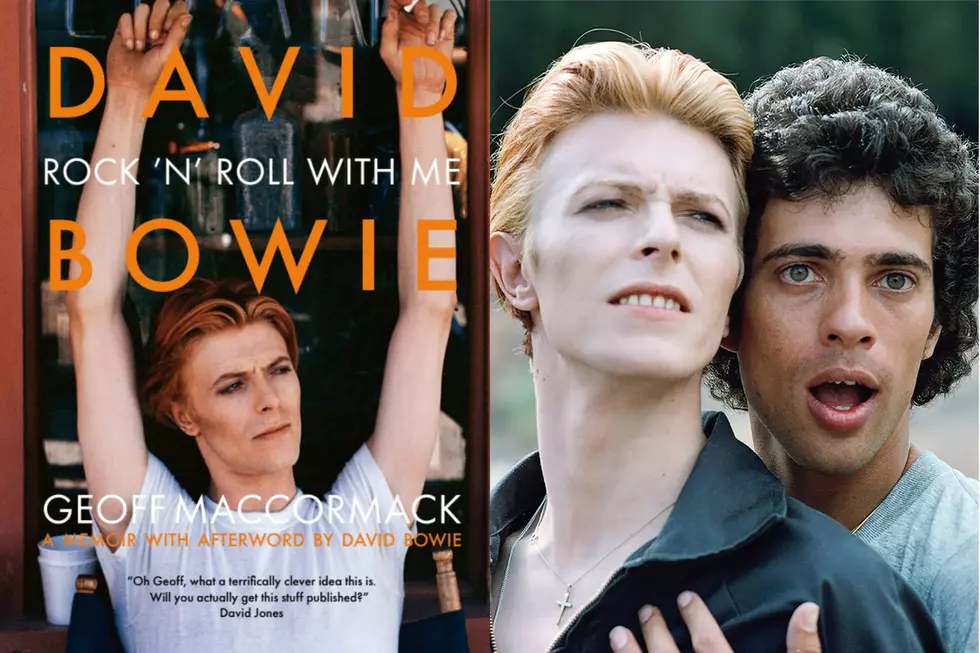 Geoff MacCormack Revisits 60-Year Friendship With David Bowie
ACC Art Books / Courtesy of Geoff MacCormack
Geoff MacCormack first met David Bowie when they were both 8 and students in primary school. They spent several of their formative years together as music-obsessed teens with a penchant for mod fashion and American rock 'n' roll. At the time, MacCormack never considered that his childhood pal would go on to become one of the world's most influential artists. "I had no idea until it got serious," he recently told UCR.
Even though he'd develop a career under the stage name Warren Peace, MacCormack collaborated with Bowie throughout the years. He contributed backing vocals to five Bowie albums from 1973's Aladdin Sane to 1976's Station to Station and also took part in 1974's Diamond Dogs tour. He also co-wrote with Bowie Diamond Dogs' "Rock 'n' Roll With Me" and "Turn Blue" from Iggy Pop's 1977 album Lust for Life, which Bowie co-produced.
MacCormack published From Station to Station: Travels With Bowie 1973-1976 in 2007, which chronicled his three years touring and working in the studio with Bowie. But as he notes, this was only part of the adventure. MacCormack's new book, David Bowie: Rock 'N' Roll With Me, is an expansive memoir that begins with his childhood in Bromley, England, and ends with the last communication he had with Bowie before the legend's death in January 2016. MacCormack recently discovered more never-before-seen photographs of his time with Bowie, capturing the Star Man in tender, unguarded moments.
A common theme that seemed to run through your friendship with Bowie was his confidence in asking your opinion. In the book, you describe a moment when Bowie played you a new song he'd written called "Space Oddity." Do you remember what you thought of it?
I thought it was a good one. I thought it was, 'Oh, that's got the big commercial possibilities.' And the timing was right because it was around the time of the film 2001 [A Space Odyssey], which was a huge film worldwide.
Do you have a particularly favorite memory of being in the studio with Bowie?
His voice went halfway through the night when we were recording "Golden Years" [from Station to Station]. So I did most of the vocals, the backing vocals. So that was kind of cool, and to hear it now and then hear, Oh, that's my [sings] "golden years," you know, in the background, that's kind of cool. I was hanging out with my pal. It wasn't like he desperately needed me. ... I probably didn't even get paid for it, you know? I probably didn't even have the common sense to bill for it. I did percussion on that and "Panic in Detroit." I did the percussion on that because [drummer] Woody [Woodmansey] didn't want to do it or whatever. I probably just did it because I was hanging out and forgot about it.
Listen to David Bowie's 'Golden Years'
The beautiful thing about the photos in this book is their intimacy. These aren't publicity pictures; they're pictures taken by a friend. I love the one of Bowie asleep in the train car. Were you trying to get shots like that or is that just kind of how it happened?
It's kind of how it ended up happening. I wanted a camera because I loved the idea of a camera. I loved the idea of a camera like you might like the idea of a gun, the mechanics of it and the weight of it ... so to have a proper camera, as opposed to an Instamatic — Instamatics have got their place, by the way, as do Polaroids — but to have a serious camera with dials that you didn't know what they did. I probably never learned my way around it, but there's something really sexy about a camera - a real camera, a good camera. So I wanted that. I don't know how much was wanting that and wanting to use it, and not the subject as such. So, you know, David wasn't just in the way [Laughs] ... but mostly it was the camera, it was having a camera and using a camera, which I thought was really sexy.
It's interesting because you captured some beautiful shots during eras in which Bowie maybe wasn't as happy or fulfilled in his life or career — the period when he was filming 1976's The Man Who Fell to Earth, for example.
Yeah. When you're used to bumming it for most of your life, and you rebound, it's not a big thing, you know? It's gonna be all right in the end. OK, so the management has got hold of his money, but the record company was helping him out a bit ... but he'd had a No. 1 in America at that point ["Fame" from 1975's Young Americans]. He suddenly didn't have any money and we were in Los Angeles, and New York as well. But I think you know if you've had a No.1, you're going to be all right.
What's something you wish more people knew or understood about Bowie?
He was extremely generous. He was extremely polite. That's the way we were brought up in Bromley, where we all came from.
Watch Geoff MacCormack Perform With David Bowie on 1974's 'Diamond Dogs' Tour
You describe how in December 2015, about a month before he died, Bowie emailed you a photo of you and a few friends who'd already passed on saying, "Lovely picture, took me back." You didn't know he was ill or the extent of his illness?
No. I knew he had been ill, but I didn't know he had been that ill, because although I hadn't seen him for, like, a year and a half before, I remember him having to take tablets and whatever and his [personal assistant] fussing over him. So I thought, Oh, that's perhaps not a good sign. But no, and I'm glad I didn't, really.
Looking back now, how does that casual interaction strike you?
I think it's perfect, really. Because he said what he said, I said what I said. ... And he basically said goodbye, without saying it. ... When I think about it, it's actually quite a lovely thing, beautifully dealt with.
As someone who knew him personally, what do you think Bowie's legacy will be?
I think, like any huge artist who's had that longevity and that array of work, I think he's pretty well cemented himself a place in music history. Because there's something — even if you're not a fan of everything he did — there's something admirable about the way he got through that and reinvented himself so many times and kept you guessing that other artists just don't have. You think of a band or an artist, you kind of think of that genre, whereas it's difficult to stick that on him and go, "Which genre? When he did that? Or when he did that?" So it's that force of a body of work, rather than a style. So I think on that basis, he'll always be huge. Hugely respected.
David Bowie Year by Year: 1965-2016 Photographs
David Bowie's fashion sense fueled his chameleon-like career, from the early days as a mod and a folksinger through Ziggy Stardust, the Thin White Duke and beyond.