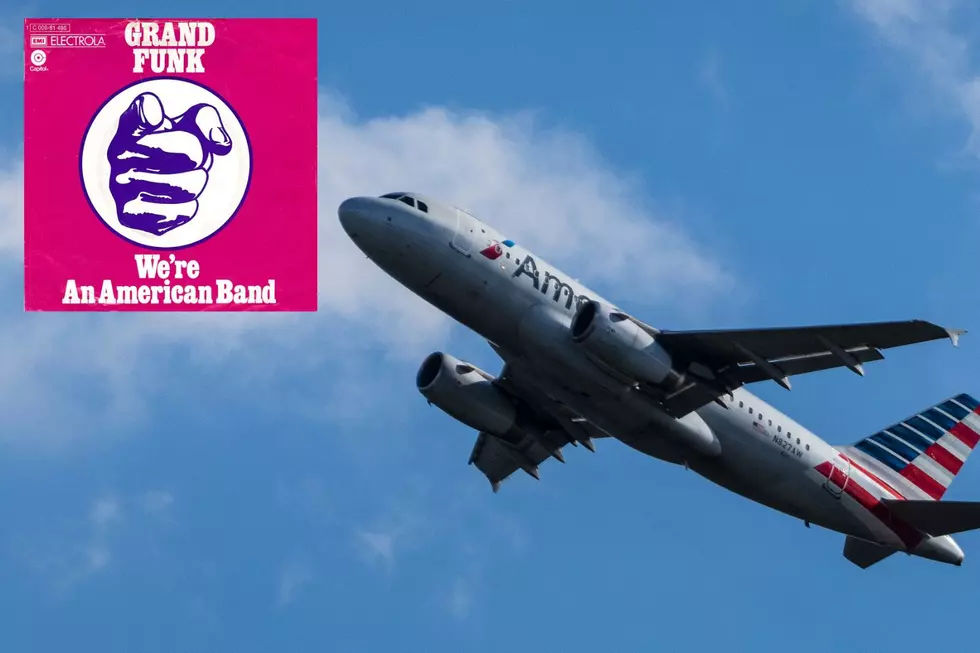 50 Years Ago: What Really Inspired Grand Funk's 'We're An American Band'
Capitol / Drew Angerer, Getty Images
By the summer of 1973, Grand Funk Railroad was an undeniably successful rock band: They'd sold out Shea Stadium in a fraction of the time that the Beatles did, had six albums under their belt and no plans to slow down anytime soon.
But there was also something unsavory at play during this period: a lawsuit filed by former manager Terry Knight, whom they'd fired in early 1972. Knight claimed there was a breach of contract, and he also disputed the band's rights to their name. Grand Funk fought back.
"It was a very tough time for us," drummer and singer Don Brewer told American Songwriter in 2020. "He was trying to drive us into oblivion. It was sink or swim time."
Ultimately, the band settled with Knight out of court. They kept the rights to their name, while he received copyrights and publisher's royalties to every Grand Funk Railroad recording made between March 1969 to March 1972. It might not have been fair, but it was over.
Grand Funk pushed on. Then an argument broke out between Grand Funk and their early-1973 touring mates Humble Pie over the merits of British versus American rock music, according to Dave Marsh in The Heart of Rock & Soul. Marsh said Brewer listed off a series of earlier rock greats before announcing: "We're an American band!"
Inspired, Brewer penned the song of the same name shortly after. But this, Brewer countered, was not accurate. Grand Funk and Humble Pie were friendly.
Humble Pie drummer Jerry Shirley also disputes this account, adding that the two bands weren't even playing together at that point. "Don is absolutely 100% correct. This story never happened," Shirley tells UCR. "It is a total fabrication. He says it right: We were great friends – and, by the way, we didn't tour together in 1973. We had finished working together in 1971."
The real inspiration, Brewer said, came from the band's day-to-day life.
"We were on planes all the time, flying into these towns," he recalled. "I remember I'm looking down at the ground as we're coming into a city and that thought came to my mind: 'We're coming to your town. We'll help you party it down' – because that's what we're doing; that's what this band does."
Listen to Grand Funk Railroad's 'We're an American Band'
Brewer then added more lyrics about the trials and tribulations of life on the road: "Booze and ladies, keep me right / As long as we can make it to the show tonight."
Up until that point, Brewer had stuck mostly to drumming. He'd be credited as the sole songwriter on "We're an American Band," on which he also sang lead vocals.
The composing credit also later came into dispute when former bandmate Mark Farner told Mojo that he played a key role in crafting the song.
"I wrote the music to that," Farner said, "and I gave him that song. The drum lick and everything, that was my idea for that – all the chord changes, musically, that was my creativity. But I gave it to him because he came to me and said, 'Listen, man, I never wrote a song all by myself, do you think I could just have this?' I said, Yeah, you can have it.'"
Either way "We're an American Band" got a boost from the production work of Todd Rundgren, who had been brought in to "help us make that transition from FM underground to a more hit format sound," Brewer said.
It worked. Released on July 2, 1973, "We're an American Band" went to No. 1 on the U.S. chart, and the album of the same name went to No. 2 on the Billboard 200.
The first time Brewer heard it on the radio while driving his car one day, he had to stop for a moment. "I pulled off the side of the road and I cranked it up," he told American Songwriter. "And I just sat there and I couldn't believe how good it sounded on the radio. It just had that thing – and that's when I knew, that's a hit record. That's what hit record sounds like."
How 100 of Rock's Biggest Acts Got Their Names
From AC/DC to ZZ Top, we give you all the ammo you need to be the biggest know-it-all in town.