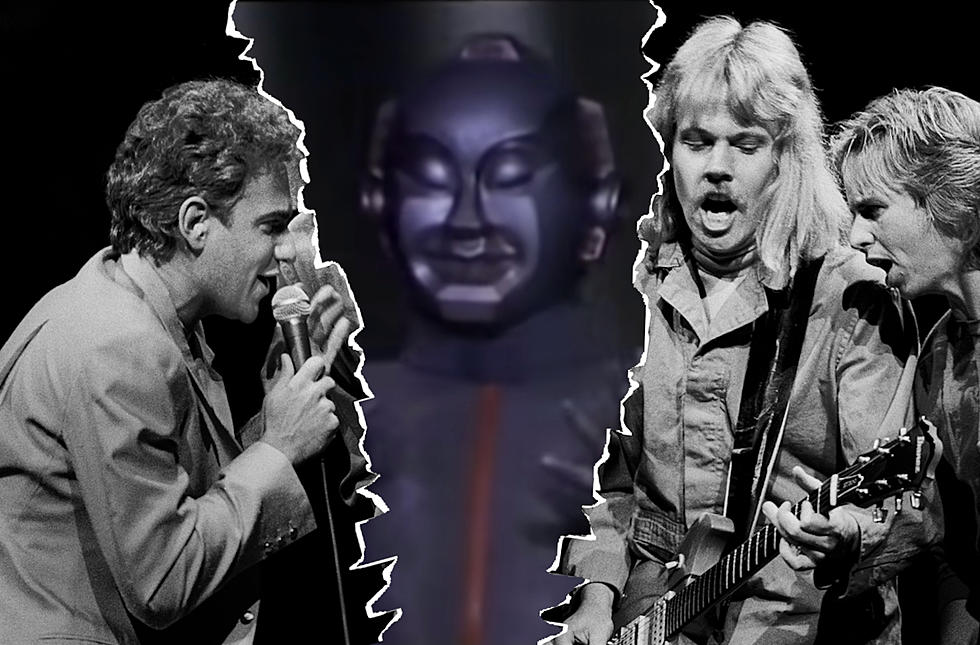 40 Years Ago: Did 'Mr. Roboto' Really End Styx's Classic Era?
Paul Natkin, Getty Images / YouTube
Classic rock fans have long pointed to "Mr. Roboto" as a turning point for Styx. But is this polarizing 1983 hit really to blame for the rift followed between Dennis DeYoung and the rest of the group?
"Mr. Roboto" unexpectedly reached No. 3 on the Billboard Hot 100, arriving on Feb. 28, 1983, as the lead single from Styx's Kilroy Was Here. Unfortunately, DeYoung's rock opera didn't match Styx's previous multi-platinum commercial successes.
"What that song did is it killed a whole lot of people's interest in our music," guitarist J.Y. Young later told the Arizona Republic. He's described it as a situation where DeYoung's "grand scheme" drove away fans, and then individual band members.
"We spent a million dollars on a 10-minute feature film to be part of our live presentation and we spent money like water and then 'Mr. Roboto,' which was the lead song, alienated probably half of our male rock audience if not more," Young told the Arizona Daily Star. "Ultimately we stopped working after that because it was an ugly battle after battle after battle, and unhappiness after unhappiness after unhappiness."
Styx temporarily disbanded in 1984, after touring in support of Kilroy Was Here. They tried returning in 1990, only to split again in 1991. A 1996 reunion only lasted until 1999. This would prove to be the last time DeYoung was part of the lineup.
Watch Styx's 'Mr. Roboto' Video
By then, "Mr. Roboto" had long since become the song some loved to hate. Largely absent from Styx concerts, the tune was only played seven times between 1983 and 2018, according to Setlist.fm. Even then, "Mr. Roboto" was rarely performed in its entirety.
Young and Tommy Shaw would usually reference similar reasons when asked about moving on without DeYoung and this hit song. They didn't like the direction of "Mr. Roboto," Kilroy was a toxic experience they didn't want to revisit, and creative differences with DeYoung were simply too much to handle.
DeYoung said fans were faced with an impossible choice: Styx or DeYoung and "Mr. Roboto." Worse, he says he's been made out to be a villain in the decades since his firing.
"They had to convince the fan base there was good reason for it," DeYoung told Forbes in 2019. "They came up with a story and stuck to it. 'Dennis was controlling, egomaniacal. He led us down the path that changed our music style!'"
He says that made the seismic lineup shift easier to justify, as he told Eddie Trunk that many warmed "to the idea that they should dislike this song and me at the same time."
Watch Styx's 'Kilroy Was Here' Film
These days, DeYoung still laments how everything changed. "It's just wrong; it's counterproductive," DeYoung told Trunk, "and I think it hurts our legacy – which to me is the most important thing. I didn't do this thing to become a flash in the pan. I did this to create something that will live longer than myself, and I think we've done that. But a lot of damage has been done to our fanbase, and I regret it and I apologize to them."
DeYoung never turned his back on "Mr. Roboto" as a solo artist, performing it hundreds of times – and eventually, Styx softened their stance, too. After years of fan requests, this much-maligned song finally returned to the band's set lists, too.
"If you're in Styx, you have to accept 'Mr. Roboto,'" Shaw admitted to Forbes. "I don't know what it means exactly, except it's a song about technology taking over – which is actually hitting the nail square on the head. When we play it now, we love seeing the surprise on people's faces, playing this song we said we would never play."
Styx and DeYoung may never share the stage again, but both sides appear to maintain a level of respect for the other – especially when it comes to what they were able to achieve together. In hindsight, it's easy to see that the band and DeYoung were already drifting apart by 1983. If "Mr. Roboto" had not been the final nail in that coffin, some other song likely would have been.
"You get married when you're young and everything's rosy," Shaw later mused. "Then, as you start to get a little older, you realize you didn't have that much in common and then you go through a tough divorce. We still have songs that we co-wrote together, and those are our children, and we've managed to find a way to keep those things in play."
Meet the New Boss: Rock's Replacement Singers
Some bands soar to their greatest heights after an original frontman leaves. Others must deal with the past's towering expectations.
Foreigner, Styx and Don Felder Share Beatles Memories