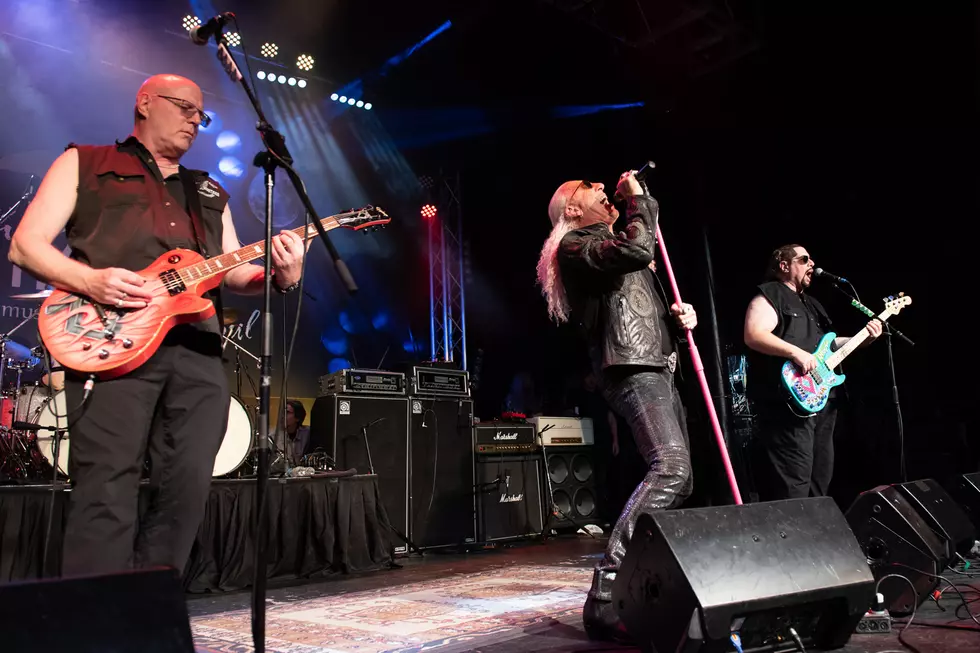 Watch Twisted Sister Reunite at Heavy Metal Hall of Fame
Elyse Jankowski, Getty Images
Twisted Sister played the first show since their retirement in 2016 when they performed for their induction into the Heavy Metal Hall of Fame Thursday night.
The show at the Canyon Club in Agoura Hills, Calif., featured Mike Portnoy playing drums in place of A.J. Pero, who died in 2015. Portnoy and Steve Vai inducted the group. According to Three Sides of the Coin podcaster Michael Brandvold, guitarist Eddie Ojeda had contracted COVID and was unable to attend. He was replaced by Keith Robert War from the AC/DC tribute band LV/DC.
You can watch guitarist Jay Jay French, bassist Mark Mendoza, singer Dee Snider and Portnoy perform "You Can't Stop Rock 'n' Roll," "Under the Blade" and "We're Not Gonna Take It" below.
While the crew dealt with setup issues, frontman Snider delivered an impromptu speech, saying, "Heavy Metal Hall of Fame, you are doing the metal gods' work. Heavy metal music needs to be recognized; it needs to be appreciated. Heavy metal has provided some of the greatest musicians in the history of music.
"Look at all the greatest guitar players, hard rock and metal – Hendrix, Eddie Van Halen, Jimmy Page, Steve Vai – the greatest players all come from fucking metal. Thank you, Heavy Metal Hall of Fame. Keep growing, keep getting bigger, we'll keep supporting you. And we want a fucking museum, motherfucker!"
Twister Sister's last show was their farewell tour closer on Nov. 12, 2016. Since then, Snider later noted, they have rejected several invitations to re-form. "I hate all that fake farewell bullshit. Bands should stay forever if they want to ... just don't sell us a BS farewell tour!" he said.
"Twisted Sister retired in 2016 and while we talk to each other regularly, none of us has even mentioned reuniting. And believe me, we are getting lucrative offers."
Watch Twisted Sister Perform 'You Can't Stop Rock 'N' Roll' and 'Under the Blade'

Watch Twisted Sister Perform 'We're Not Gonna Take It'
Final Albums: 41 of Rock's Most Memorable Farewells
From 'Abbey Road' and 'Icky Thump' to 'Goodbye' and 'Everything Must Go.'