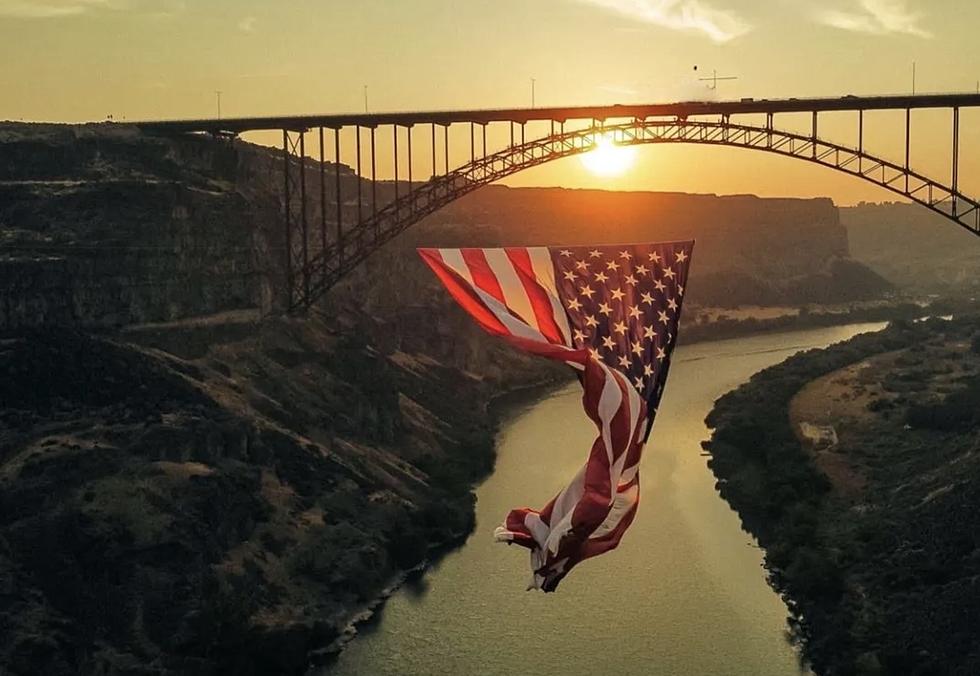 Magic Valley Business Donates 30k to Memorial Flag Project
Magic Valley 911 Memorial
A Magic Valley business has generously donated $30,000 dollars towards the purchase of a flag for the Magic Valley 911 Memorial.
11,700 square-foot-flag flies at the Perrine Bridge during the 911 Memorial event
If you didn't see the giant American Flag flying over the Snake River Canyon during last year's 9/11 Memorial event in person, chances are you saw at least a few of the hundreds of photos posted by Twin Falls area residents on social media. To say it's a spectacular site to behold is an understatement. And you won't regret making plans to see the flag for yourself by attending this year's 911 Memorial.
A dream of owning our own Memorial Flag
The Magic Valley 911 Memorial Committee is raising funds in hopes of purchasing a gigantic 11,700-square-foot flag for future events. The purchase of the flag would replace the current one, that's rented out through a third party.
A generous $30,000 donation from a local business
Giltner Transportation and Giltner Logistics recently made a sizeable donation of $30,000, becoming a Platinum Corporate Sponsor of the 911 Memorial Flag project. The generous donation will all but pay for the cost of the flag itself.
At Giltner, we really feel the importance of honoring those we lost on 9/11, as well as our military and first responders. In our own community, we've seen some incredible heroes step up, and this is our way of showing just how grateful we are for their amazing contributions. - Greg Paulson, Owner, Giltner.
A huge jumpstart towards the project goal
The 911 Memorial Committee is hoping to raise upwards of $75,000. Along with the cost of the flag itself, other expenses including storage, maintenance, support, and presentation materials make up the rest of the projected costs.
How to give to the Magic Valley 911 Memorial Flag project
The 911 Memorial Committee is hopeful that other corporate sponsors might join Giltner in sponsoring the flag project. Interested business sponsors can contact the committee for corporate sponsorship opportunities at magicvalley911memorial@gmail.com. Magic Valley area residents can also donate to the project directly. You can find more information and a Venmo link to donate on the Magic Valley 911 Memorial website.
Fundraising event for the Magic Valley 911 Memorial flag project
A community dinner and sneak peek of the 911 Memorial Flag is being held at Kimberly High School Football home game on September 8, 2023, at 5:00 p.m. The suggested donation for the dinner is $5 per person or $20 per family, with all proceeds benefiting the purchase of the memorial flag. Find more information about supporting the Magic Valley 911 Memorial on the event's website.
9-11 Memorial at Perrine Bridge
The 9-11 Memorial at the Perrine Bridge and Twin Falls Visitors Center brought hundreds of people and three different fly overs from historical planes to the p-15 Mustang