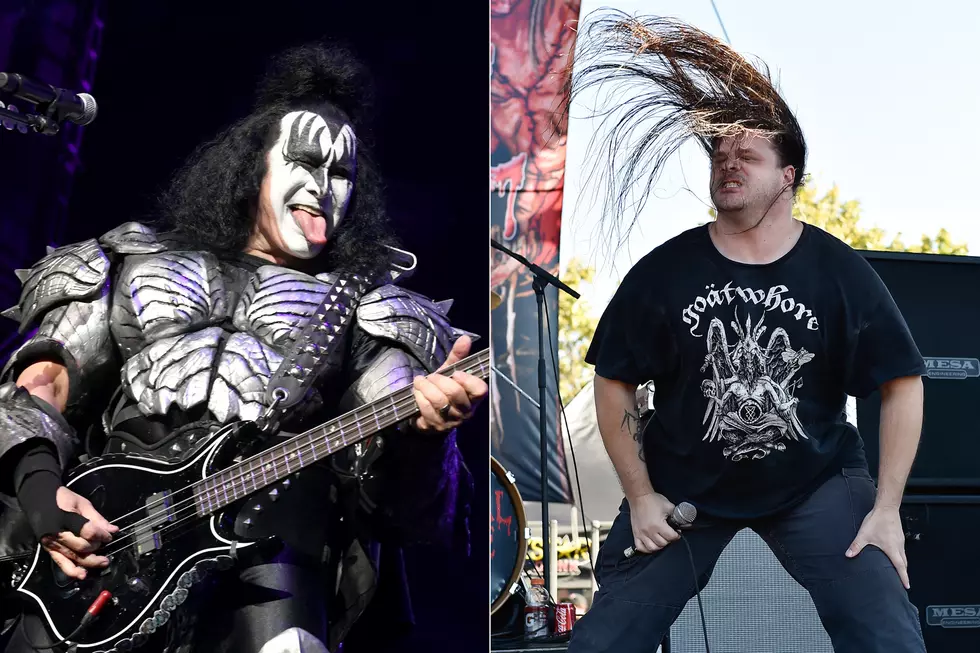 KISS' Gene Simmons Likes Death Metal + We Can't Believe It!
Kevin Winter / Steve Jennings/WireImage, Getty Images
KISS' Gene Simmons is touting the band's love of a variety of genres within a new feature for Goldmine sharing love for the 10 Albums That Changed His Life. In fact, within the list itself, he proclaims that there's a love for death metal in the band.
The declaration came during his entry speaking about ABBA's Greatest Hits of all things, with the KISS bassist setting the stage by proclaiming a varied taste of musical selections. "Yes, we like death metal, and yes, I like The Killers and I like Tame Impala — I like all kinds of things. But what is it that rises to a level of greatness no matter the musical genre, it's the ability to craft songs that are forever." He then credited ABBA for their hits set, stating, "If I'm riding in my car and ABBA music comes on, I turn it up and that's the sign of greatness. Undeniable songwriting. You just can't touch it. That's why I have to pick ABBA because it's just undeniable. I could have said The Four Seasons or The Beach Boys because there's a wealth of great material."
Simmons did not elaborate on which death metal acts stand out to him or fellow band members and no death metal albums actually were named in the feature of albums that changed his life, but a nod of respect from the often opinionated Simmons toward the death metal field is a positive sign for the genre. Simmons has notoriously railed against rap and hip-hop, primarily when it comes to the genre's inclusion in the Rock and Roll Hall of Fame.
The long-tongued legend did serve up an eclectic list for Goldmine, shouting out early R&B pioneers such as Ray Charles and James Brown, country crooner Patsy Cline and British icons The Beatles on his list of albums that changed his life, also reserving spots for The Who, Led Zeppelin and even his own band KISS to represent his rock tastes.
That said, Simmons later reiterated in the feature the breadth of KISS' musical tastes and influences, commenting, "The truth is we all like all kinds of music. What's interesting is in the dressing room, we put on all kinds of music. There have been artists who have had those kind of standalone songs and you just go, 'Wait a minute.' Things like 'The Sun Ain't Gonna Shine Anymore' by The Walker Brothers. Undeniable. I love The Raspberries, too."
Check out all of Gene's picks here via Goldmine Magazine.
Best Death Metal Album of Each Year Since 1985
Here's our picks for the Best Death Metal Album of Each Year Since 1985