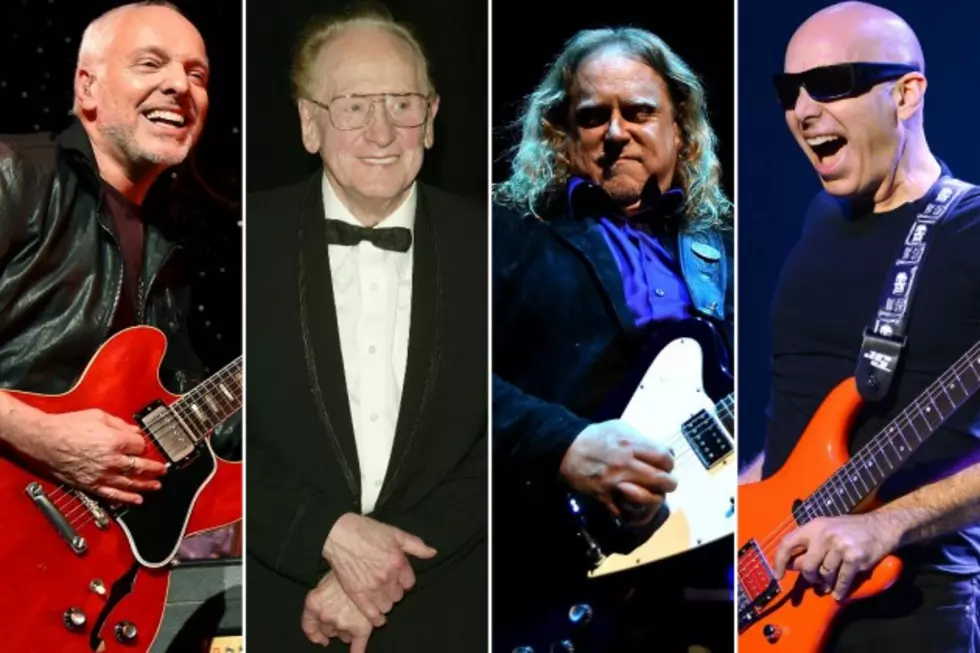 Peter Frampton, Warren Haynes, Joe Satriani and Others Celebrate Les Paul's 100th Birthday
Mike Coppola / Peter Kramer / Mike Coppola / Ethan Miller, Getty Images
Legendary electric guitar innovator Les Paul would have been 100 today, and his birth is being honored across the U.S. with a series of special events that will include appearances by some of the countless musicians he inspired.
ABC News Radio reports that the festivities are scheduled to include a 100th Anniversary Celebration concert hosted by the Hard Rock Cafe in New York City, where the evening's entertainment will include performances by Steve Miller, Joe Satriani, Neal Schon, Steve Vai and others. In addition to the concert, the Hard Rock is also hosting a memorabilia exhibit which is scheduled to remain on display until June 15.
Elsewhere in the city, fans can stop by a "state-of-the-art mobile exhibit" called Les Paul's Big Sound Experience, which "will allow visitors to explore Paul's many musical and technological innovations." New York City is the first stop for the Experience, which is reportedly planning an itinerary that includes 40 stops across the U.S. between now and next May. Additionally, the Guitar Center in Times Square is hosting an event that will include an appearance by Schon, who will be on hand for a meet-and-greet and CD signing.
Other cities scheduled to host celebrations honoring Les Paul's centennial include Hollywood, Nashville and Waukesha, Wis., where Paul was born. According to ABC News Radio's report, Frampton will be present at the Nashville ceremony, where he'll help declare "Les Paul Day."
The only person to be inducted into the Rock and Roll Hall of Fame and the National Inventors Hall of Fame, Paul helped pioneer the solid-body electric guitar, which paved the way for rock 'n' roll. He was also an innovative guitarist as well as one of the earliest artists to experiment with overdubbing and multi-track recording, which he used on his own albums (many of which were recorded with his wife, Mary Ford). Paul passed away August 12, 2009, at the age of 94.
50 Great Hard Rock and Metal Guitarists
Warren Haynes Talks About Covering Pink Floyd