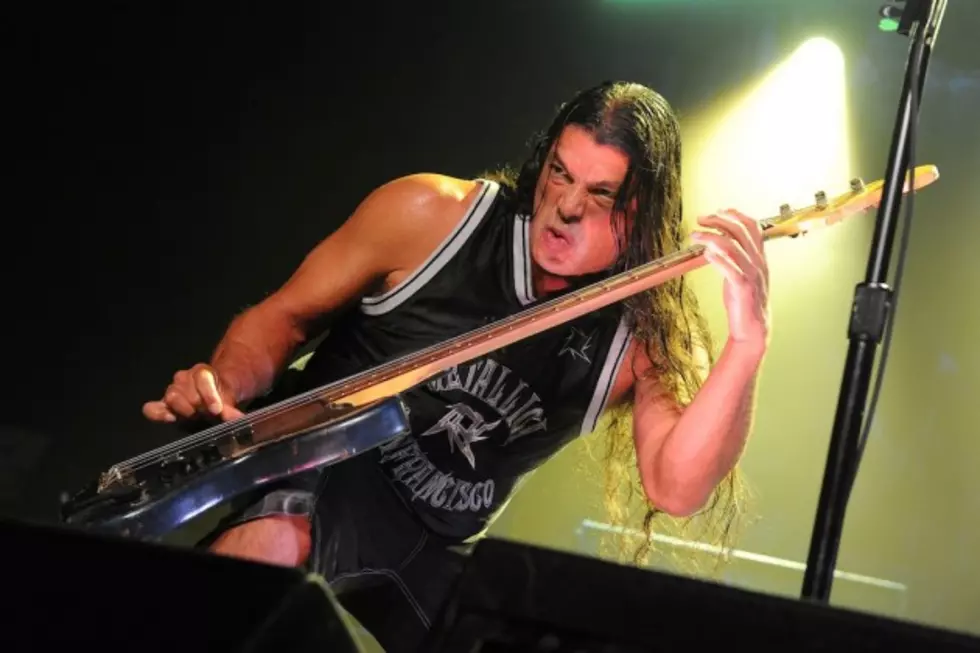 Robert Trujillo: Metallica Album Delay Due to Being 'Caught Up in Own Creativity'
Kevin Winter, Getty Images
It's been nearly seven years since Metallica released their last album 'Death Magnetic' back in 2008. Robert Trujillo recently shed light on why it is taking the band so long to record new music. Speaking on the 'Groove – The No Treble Podcast' (as transcribed by Blabbermouth), he revealed that Metallica has been "caught up in their own creativity" and that ambitious projects like the 'Through the Never' 3D movie took their collective focus off new music. You can listen to the entire interview in the player below.
Fans will be happy to know that Metallica have been working on new music. "We've been jamming on lots of new ideas -- frameworks, so to speak," Trujillo said. "You know, James [Hetfield] is getting into working up melodies and experimenting on that level. But it's really, like, kind of, you work out parts, a process of elimination, and then you jam 'em out. We jam' em out and get 'em into your system, make 'em a part of you."
The bassist added, "For us right now, we're basically in a kind of scenario where we're nurturing the arrangements. And everything, really, is nurtured. It's like the transitions… trying everything you can try. That's just how it is. And I think that's what makes Metallica's music great and special."
Trujillo says that the band enjoys "being creative" but also gets derailed by their own creativity. He said their focus on projects like their 3D movie 'Through The Never' "took a couple of years out of our lives." He continued, "Those were a couple of years that we really needed to be writing, you know. I mean, a lot of the fans have been waiting for a new album."
He says the band knows it's been a long time since they have released new music. "In the time that we made 'Death Magnetic,' as far as creating and writing the songs to the time that we finished touring it, there were five children born amongst us. It's kind of crazy and wild and funny."
It sounds like the band is back on track. Meanwhile, as we wait for new Metallica music, the band has asked fans to contribute photos, audio, videos and any other artifacts for their upcoming reissues of their debut album 'Kill 'Em All' and the follow-up 'Ride the Lightning.'
Listen to Metallica's Robert Trujillo on the 'Groove - The No Treble' Podcast
You Think You Know Metallica?