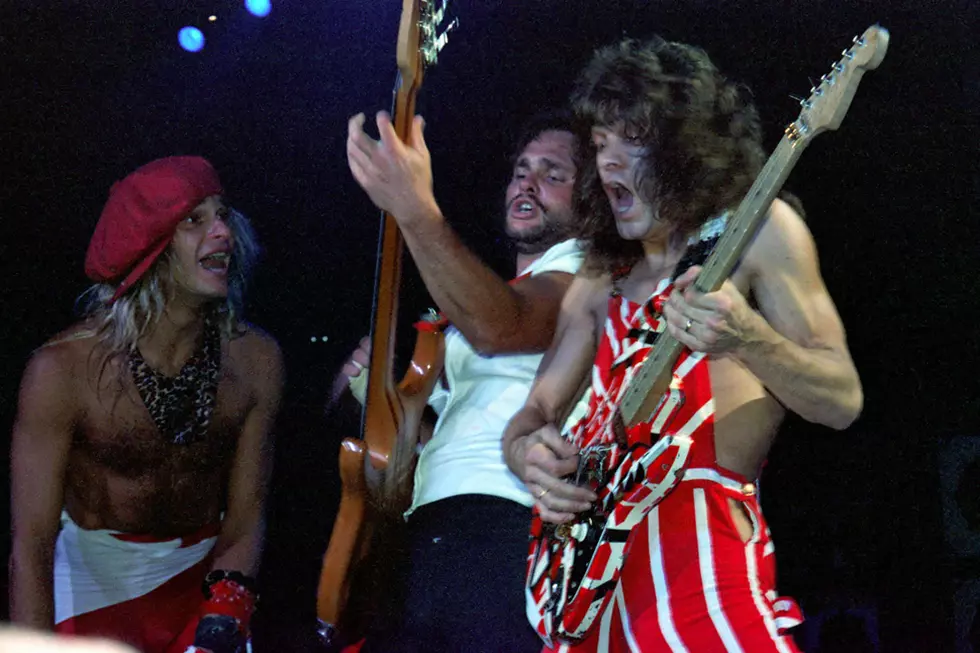 Why Van Halen Begrudgingly Returned for 1982's 'Hide Your Sheep' Tour
Larry Marano, Getty Images
Van Halen had hoped to take a well-deserved break after their tour in support of Fair Warning ended in October 1981. But they changed their plans and kicked off the extensive Hide Your Sheep tour on July 14, 1982, at the Augusta Civic Center in Augusta, Ga.
"As 1981 gave way to 1982, my goal for Van Halen was to do exactly what I said I would do: provide the band enough time and space to craft a truly great album," Noel Monk, who managed the band from 1978-1985, said his book Runnin' With the Devil. "No more jumping off the road and straight into the studio, and then right back out on the road to support an album that had been furiously cobbled together in the span of a few weeks.
"Maybe there wouldn't even be an album in 1982," Monk added, "and if there wasn't an album, maybe there wouldn't be a tour or not much of one, anyway. We would rest and recharge our batteries and take the time to write and record a masterpiece."
That's not quite how things turned out, much to the chagrin of Monk and guitarist Eddie Van Halen, who also figured things would move at a slower pace in the coming year. Frontman David Lee Roth had a different vision.
"What we planned on doing this year, last year when we came off the Fair Warning tour, we were gonna take some time off and spend a lot of time writing and this and that," Van Halen told an interviewer in the summer of 1982. "Dave came up with the idea of, 'Hey, why don't we start off the New Year with just putting out a single?'"
Roth wanted to do a cover of "Dancing in the Street," made famous by Martha and the Vandellas. Van Halen suggested Roy Orbison's "(Oh) Pretty Woman," which ended up taking one day to record at Sunset Sound in Los Angeles. Released at the beginning of the year, it turned into an unexpected hit single, and the pressure was on from the label for a full-length LP to capitalize on its success.
"We jumped back in [to the studio] without any rest, without any time to recuperate from the tour," Van Halen said.
The result was the quickly cobbled together – but somehow excellent – Diver Down, which contained just four original compositions, five covers and three instrumental interludes. Then it was back on the road for what was dubbed the Hide Your Sheep tour.
There are three lines of thought as to where the name came from. One is the old saying to alert people that trouble was coming to the neighborhood that went, "Hide your wives, hide your daughters, hell, hide your sheep!" The other is a farmer in the Midwest, when told Van Halen would be coming to town and asked if he would be hiding his daughters replied, "Hide my daughters? Hell, I'm gonna hide my sheep." The third was a tongue-in-cheek response to a run of dates by AC/DC called "Hide Your Daughters."
"So many people had input on the art and merch, names and ideas, I really am not sure [where the idea came from]," Monk tells UCR. "The idea was hide your woman and even your sheep when VH comes to town."
Regardless of origin, it was a brilliant name and typical of the Van Halen brand of humor. The road crew on the tour even donned shirts featuring a sheep in a garter belt and high heels with her eyes covered by a black bar.
"I didn't think we were gonna [tour], but the States we left July 9 and we'll be back late August for this leg, then take a week or so off, then go back out again for another six weeks, then go back out again up until early December and take the holidays off," Van Halen guessed. "Then I think we're going to Europe and then Japan and Australia and maybe South America."
At nearly 100 dates, it certainly added to the endless grind, but didn't end up crisscrossing the globe like Eddie anticipated. There were a total of four consecutive legs in the States, including some legendary shows like the one at the Capital Center in Landover, Md.
Early 1983 did include travel to South America – Van Halen's first trip to the continent. The Hide Your Sheep Tour wrapped in February in Lima, Peru, but was briefly revived for a one-off, disastrous Memorial Day weekend performance at the 1983 US Festival.
Van Halen Magazine Ads Through the Years: 1978-2012
Think You Know Van Halen?