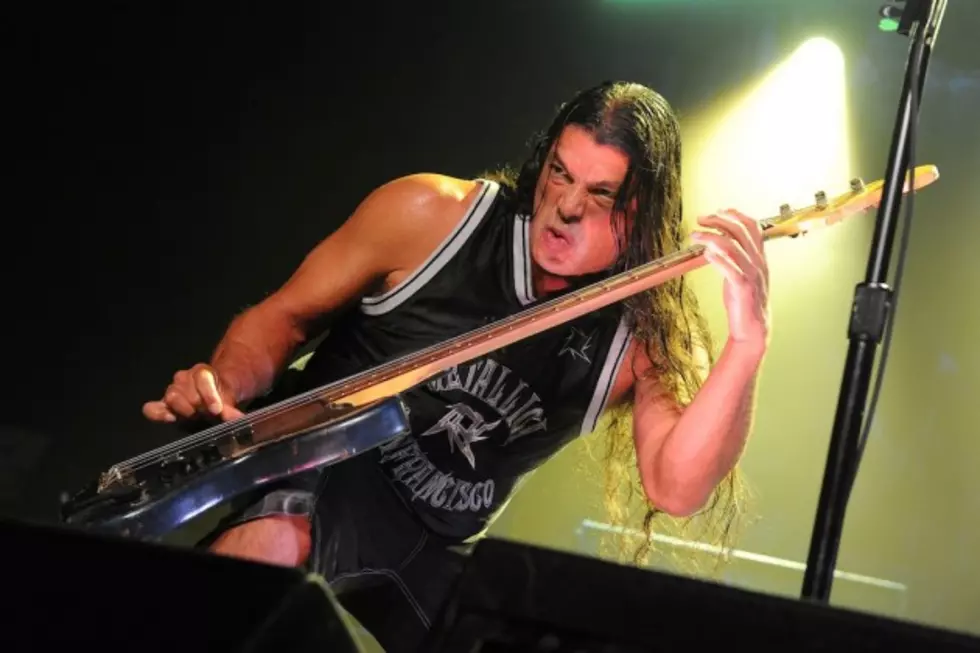 Details Emerge About New Project Featuring Metallica's Robert Trujillo + More
Kevin Winter, Getty Images
Back in February, we reported the birth of a new supergroup featuring Metallica bassist Robert Trujillo, Torche drummer Rick Smith and others, for a yet-to-be-named project. New info about the group has emerged, including the complete lineup and their charity goals.
The as-yet-unnamed group is comprised of Brent Eyestone and Graham Scala of Harmonic Cross, Nate Newton of Converge, Rick Smith from Torche and Robert Trujillo. Noisey caught up with Brent Eyestone, who unveiled the lineup and shared info about the project, which will benefit the Tony Hawk Foundation.
In the interview, Eyestone said, "I started up this project recently with Robert from Metallica and Rick from Torche." He added, "It's a project through the Tony Hawk Foundation. It's me, Robert Trujillo, Rick Smith, Graham, and then Nate Newton from Converge and Doomriders. We're doing this record, it's just going to be a couple of tracks that we're going to put it out digitally and on vinyl."
The Magic Bullet Records founder continued, "All the money that comes in will be donated to the Tony Hawk Foundation. We all like to skate and we believe in that charity; making free skate parks for lower-income areas. There's no name and no release date, but once it's done all proceeds will go to public skate parks."
Eyestone also said the guys have no idea what direction the music will take them. "We're just rabid musicians who want to make new stuff and not put a cap on what it is." He concluded, "It could be an ambient record, it could be a weird, negative hardcore record, or just a band with people we didn't think we could get."
Back in February Eyestone teased the project by posting a photo on Instagram with the following description: "My first writing and recording project since moving to the West Coast was both surreal and inspiring. Thanks so much to my homies behind the scenes at @tonyhawkfoundation and @metallica for logistical support and enthusiasm, my dudes Ricky, Graham, and Robert for bringing their passions for all music, Chris and Vanessa for technical support and tracking, Blind Melon for the studio, and The Melvins/Big Business for drums. Stay tuned…"
You can read the entire Noisey interview here. No word on when they will announce their name or release the music, we will keep you posted. In the meantime, Harmonic Cross have just released their new album It Is Finished via Magic Bullet Records. It's available for download at iTunes now. Fans can listen to the track "MLIAOI" here.
Watch Harmonic Cross' Video For 'Taman Shud:'
You Think You Know Metallica?