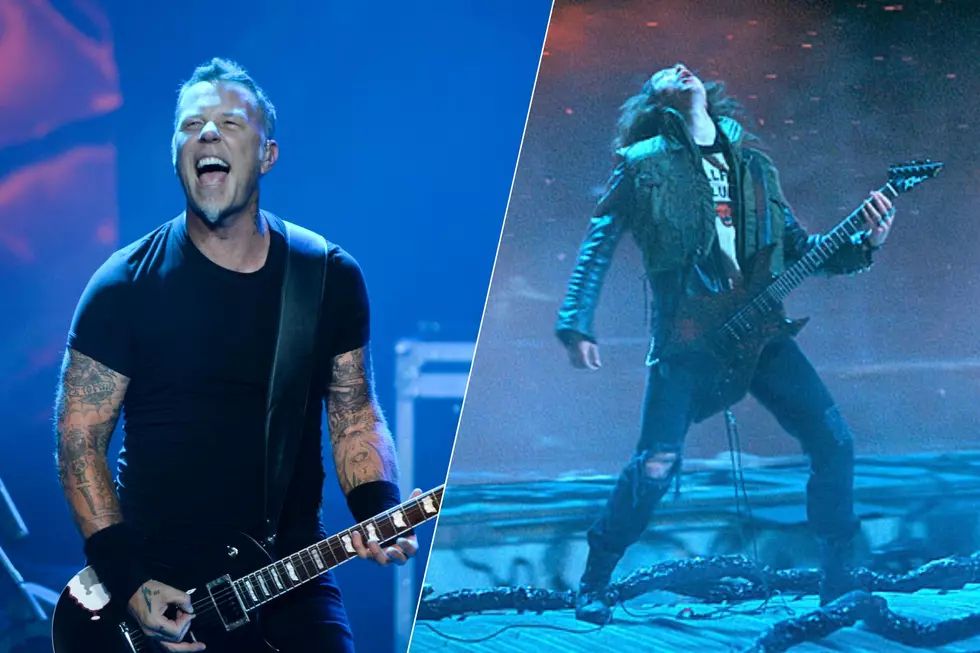 Funko Pop! Dolls of Eddie Munson in 'Stranger Things' Metallica Scene Coming Soon
Michael Kovac, Getty Images for Metallica Through The Never / Netflix
Given how viral the Stranger Things season four finale was — where character Eddie Munson played Metallica's "Master of Puppets" — a commemorative Funko Pop! figure set felt inevitable and now one has officially been announced as coming soon.
This is more than your ordinary Funko Pop! figure — both Munson and primary character Dustin Henderson are featured on the rooftops of boarded up homes, the former engaged in a power stance and armed with a guitar as a swarm of Demobats (flying, predatory creatures controlled by villain Vecna) threaten the two protagonists from above.
This Stranger Things edition is set for release as part three of the collectible manufacturer's Funko Fair 2023 series. At press time, all the company has stated is that this set will be coming soon, directing the most interested of fans to submit their email address to be alerted about future release updates.
Head here to check it all out.
Late last year, Funko Pop! honored Metallica with a Master of Puppets era collectible set of the full band — James Hetfield, Lars Ulrich, Kirk Hammett and Cliff Burton.
Things will only continue to get more exciting for metal's biggest band with the new album, 72 Seasons, coming out April 14. And what the point of a new album be without a tour, right? Metallica have booked a massive world tour that will cary into 2024 and you can see all of those upcoming dates here. If you need tickets, head to this location to get 'em.
Every Thrash Metal 'Big 4' Album Ranked
An incredibly diverse collection of albums, ranked from worst to best!
Follow Loudwire's 'Early Thrash: The Beginning & The '90s' playlist
here
.
PLAYLIST: Rock + Metal Songs From Every 'Stranger Things' Episode
To listen and/or follow, head here.