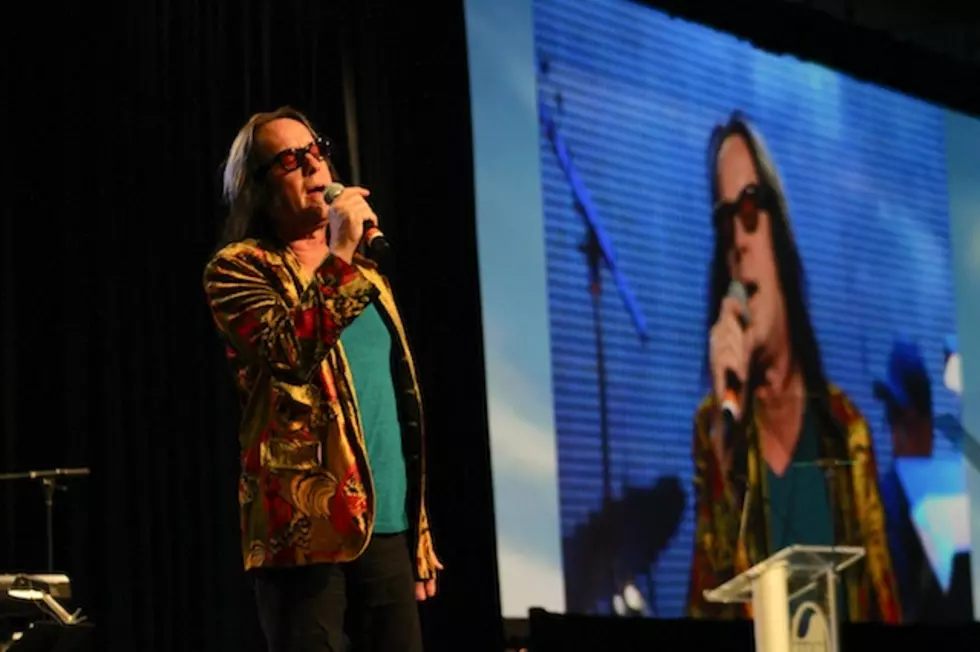 Exclusive: Todd Rundgren On His New Foundation and the Beatles' Influence
Charles Epting, Ultimate Classic Rock
Rock legend and renaissance man Todd Rundgren recently received the highly regarded Les Paul award at the NAMM convention in Southern California.  As a songwriter, producer and all-purpose innovator,  Rundgren's legacy splashes across many different platforms.
In addition to his vaunted solo career, Rundgren is also part of the traveling musical caravan known as Ringo Starr's All-Starr Band. This August he will host another one of his popular summer retreats, this time at the Cambria Pines Lodge north of Los Angeles. It is called the Mythic Pacific Retreat and will give fans a chance to get up close and personal with the wizard & true star.
Most recently, Rundgren founded the Spirit of Harmony Foundation. It all came about last summer when some fans and he made a pilgrimage in New Orleans to deliver a check which was to benefit the Youth Orchestra of the Lower Ninth Ward. Caught up in the spirit of philanthropy and giving back, a number of fans and Rundgren pooled their energies to create the foundation.  Their mission is simple: providing opportunities for personal development and self expression through the support and funding of music education.
Ultimate Classic Rock sat down with Rundgren just before he went out to accept his award at NAMM.
First of all Todd, congratulations on receiving the Les Paul award.
Thank you. I guess, essentially, you just outlive everyone else (laughs).
In addition to the award, recently you also made news with the announcement about your new foundation, the Spirit of Harmony. Talk about that little bit.
Will everybody loves music, but I think many people don't realize that musicians, aside from making a living and doing what they do, provide a service to the rest of humanity in some sense. People get comfort from music. They get joy from it and understanding from it and most of all the average person can't do without it in some sense. So when I was down in New Orleans and I saw these little kids just starting out, just barely scratching the surface of playing an instrument, it reminded me of myself a long time ago. Making a commitment to music completely defined my life and so this idea that I might be able to help others make the same commitment if it's right for them, was just very appealing.
It seems sort of fitting that your fan base got this ball rolling. After all, they remain one of the most loyal groups of fans on earth and are fiercely devoted to your career.
To have the fans that I have and to have them make the gesture that they made this something really special to me. It's funny, you never know when you look at a young musician if it is somebody in their very gestational stage. You never know where that's going to go after those first few notes. Most people will move onto something else, but somebody in that room I'm sure will go on to embrace music and make it their life. Before you affect anyone else, music has to transform you. My fans clearly realize that and so their coordination and commitment in this is invaluable.
Growing up, you didn't really have any sort of regular musical mentorship. You just kind of figured it out yourself.
I was lucky enough to grow up in an era when radio was less formatted. It was really special. You could hear a jazz song then a pop song then a show tune then some jazz. Basically whatever the DJ felt like playing, he would play. He was educating you and exposing you to things you would never hear otherwise. That became a huge part of my education.
And then a band like the Beatles comes along and all of a sudden there's a new form of education.
Exactly. I really consider myself fortunate to have been of age during the musical revolution that came in the form of the Beatles. People don't realize that previous to the Beatles, there really was no such thing as an album artist. People made singles. Then they would put a bunch of those singles together and call it an album. And that was it. The Beatles were actually the first ones to put out an album specifically with those singles on it. 'Sgt. Pepper' had no singles on it. People don't realize that the two singles equated with the album are not even on there. Those would be 'Penny Lane' and 'Strawberry Fields Forever.' They essentially foreshadowed the 'Sgt. Pepper' album, but they came out before the album did.
And much like the DJs you talked about, the Beatles went off on a lot of excursions that clearly influenced you, along with many others.
They absolutely did. The Beatles themselves were not satisfied to stay in one genre and work that genre to death. They were constantly incorporating new influences and I'm sure that George Martin had a lot to do with that. I'm not sure the Beatles would have ever said, "Why did we get a trumpet voluntary to play on 'Strawberry Fields?'" But George Martin, with his copious musical knowledge said, that's what we've got to get. We've got to get a trumpet voluntary into the song. And so that combination of producer and artist led to the genres that the Beatles would toy with and then discard. And then another band would pick up one of the genres and build a career around it. For instance, the Beatles did 'Eleanor Rigby.' And then what happened? A band called of the Left Banke essentially wrote 'Eleanor Rigby' for every song they did (laughs). Every song, like 'Just Walk Away Renee' had strings on it (laughs).
Todd, if you happen to find some kids out there through your foundation that seem like they might have what it takes to develop whatever can be called a musical career today, what will you impart to them? You're one of the few artists that has stubbornly stuck it out, doing what you want to do. Is that tenacity something you would try and instill?
Well, I bought myself a lot of freedom by becoming a record producer. So I guess wearing more than one hat is not a bad thing to suggest. By the time my first solo record came out I was making a handsome living as a record producer. I had worked with the Band, Janis Joplin and all of these other artists in the Albert Grossman organization. So as my so-called solo career evolved, I never felt pressure that I had to come back and top when I might've done before. Unlike many other artists, I never had to try and out-think the audience. I was kind of free to do whatever I wanted because if one of my solo albums failed commercially, I could always go back and produce Meat Loaf or something (laughs). And I would make far more money than I would ever make as a solo artist. I had that freedom. That was always the thing. But I also have always had what I consider to be the most loyal audience and since day one I have been constantly testing them. Every couple of records I might lose a few but ironically enough, I keep gaining converts over the years. I was just really lucky to have that other outlet. It's different today because there are no real major labels anymore that provide big advances. The business really makes things different today. But back then it sure came in handy.
As you move forward with your new foundation, it seems like the fans will be actively involved in helping to define it and make it real.
Definitely. This is me responding to them. I was not just sitting around thinking, hey I have to start a foundation! I'm not sure anyone was thinking about this before we all went down to the Lower Ninth and got to see the kids that would be involved. Nobody realized how satisfying this was going to be moving forward. It was going to be this one beautiful gesture. But then after we experienced what we did, people wanted to do it more. We wanted to feel this way more than once. There's nothing wrong with being selfish about feeling good when you're doing something good for somebody else.