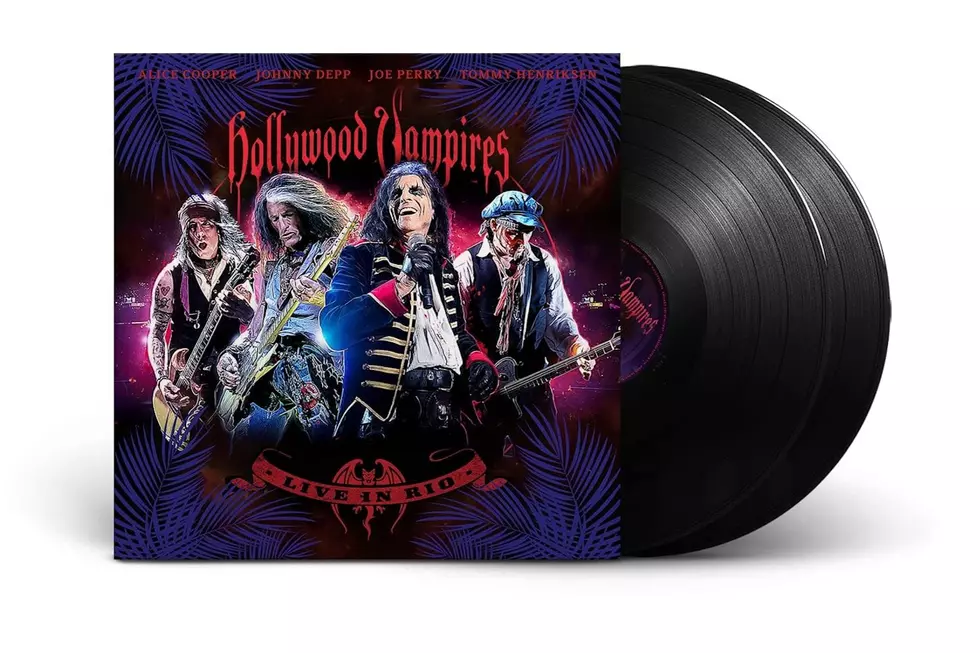 Hollywood Vampires Announce First Live Album, 'Live in Rio'
earMUSIC
Hollywood Vampires have announced their first concert album, Live in Rio, due for release on June 2.
The performance was recorded in 2015 in front of more than 100,000 fans, just weeks after the band's self-titled debut album was released.
During the performance, the band's all-star lineup – composed of singer Alice Cooper, actor and guitarist Johnny Depp, Aerosmith legend Joe Perry and producer and songwriter Tommy Henriksen – rocked through a litany of cover songs, including the Who's "My Generation," the Rolling Stones' "Brown Sugar" and Plastic Ono Band's "Cold Turkey." Halestorm frontwoman Lzzy Hale joined for a rendition of Led Zeppelin's "Whole Lotta Love," while a pair of Cooper's classics – "School's Out" and "Billion Dollar Babies" – were also in the set list.
In advance of Live in Rio's release, the band has shared their live version of "I Got a Line on You," a track originally recorded by Spirit in 1968. Hear Hollywood Vampires' version of the song below.
Live in Rio will be released on multiple formats, including a CD and DVD Digipak, CD and Blu-ray Digipak and a limited and individually numbered 2LP vinyl edition. The album can be preordered now.
You can see the full track listing for Live in Rio below.
Hollywood Vampires, 'Live in Rio' Track Listing
1. "Raise The Dead"
2. "My Generation"
3. "I Got a Line on You"
4. "Cold Turkey"
5. "Five to One/Break On"
6. "Through (To The Other Side)"
7. "Manic Depression"
8. "7 And 7 Is"
9. "Whole Lotta Love"
10. "Jeepster"
11. "I'm a Boy"
12. "School's Out"
13. "Billion Dollar Babies"
14. "Train Kept A-Rollin'"
15. "Brown Sugar"
Rock's Forgotten Supergroups
Here's a quick rundown of dozens of would-be supergroups that the world at large has forgotten over the years.